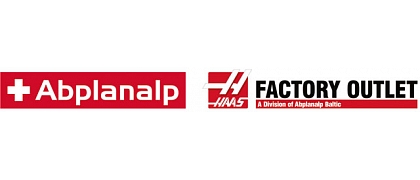 Abplanalp Baltic, LTD
EUR 2124210 / 2022
5
Distributor
40103668492

LV40103668492

09.05.2013

09.05.2013

Katlakalna iela 9A, Rīga, LV-1073
LTD "Abplnalp Baltic" is Haas Automation Inc., a leading manufacturer of CNC machining centers. representative in Latvia. We deliver value to customers that is already valued by more than 100,000 companies worldwide.
Our company offers diverse technical solutions for metal processing with CNC machines, such as milling, turning and EDM machines from Haas Automation, Kitamura, Ibarmia, Juaristi, Lagun, Wision Wide, OPS Ingersoll, Nakamura-Tome, Nomura DS, Geminis, GMTK, Accutex. Tools from Kyocera, Haimer, Van Hoorn Carbine, Gerardi, Sartorius, Groth, Gerima, Air Turbine 5th Axis, etc.

More
CNC Vertical Processing Center.
CNC Horizontal Treatment Center.
CNC lathe.
Indexing tables.
Rotating tables.
More
Introductory training on equipment and operator training( on spot)
The installation process of every new machine purchase also includes machine induction and operator training( on spot), provided by your HFO. Contact us for more information or to request a brief description of the training topics and ongoing activities.
Trainings
Customized training
Maintenance and repair training
Training on site
More
Trade, Trade, Metalworking equipment and tools trading,
Equipment trade, Machine tool trade, Work tables trading,
Mill, Lathe, CNC, CNC Vertical Processing Center, CNC Horizontal Treatment Center, CNC turning center, CNC Universal Processing Center,
CNC five-axis machining center, CNC Portal Type Processing Center,
CNC milling machine,

CNC milling work table, CNC milling machine,
CNC lathe, CNC lathes, Swiss Type lathe, Swiss type swing, Turbines,
Multipliers, Indexing tables, Rotating tables, Rotational axes Portalcutter,
Metalworking equipment, Metalworking tools, Metalworking machines,
Metal-working machines, Milling machines, Industrial production facilities,
Industrial automation, Precision machining equipment, Precision machining machines, Precision processing work tables, HSM, Mechatronics,
Mechanical engineering, Equipment service maintenance, Metalworking equipment repair,
Installation of metalworking equipment, Metalworking service maintenance,
Dzesēšanas šķidrumi, Emulsion concentrates, Grinding oils,
Leading oil, Application work, Programming, Training,
Milling cutters, Cutters, A plate tool, Billboard tools,
HSS, Hard alloy tools, Hard alloy drills, Hard alloy mills,
Hard alloy plates, Active tool, Rider

,
Rear support, Linete, Drills, Cutting tools, Cutting,
Rough processing, Plates, Cone, SK40, CT40, BT40, HSK63, HSK100,
SK50, CT50, BT50, Instrument balancing equipment, Instrumentation Thermocouples,
Hydraulic cartridges, Thermo-cartridge heating equipment, 3D indicator,
3D processing equipment, CAM software, Five axles treatment machine,
Five axle processing equipment, Three-axle machining equipment, C-clamps,
Clamps, Work safety equipment, Spare parts, Spare parts warehouse,
Hand tools, Measuring instruments, EDM, Electrode erosion,

Electrode electroencephalography,
Electro erosion, Wire erosion, Wire electroencephalography, Mold making machines, Dielectric, Special tools. Haas, Haas Automation,
UMC-750, VF-1, ST-20, DS-30, VM-3, GR-712, CL-1, CM-1, SMM, MM, TM-1,
TRT100, TR160, HRT210, HRC160, Juaristi, OPS Ingersoll, Gerardi,
KYOCERA, Kitamura, Nakamura Tome, Nomura DS, Vision Wide, Accutex,
Haimer, Ibarmia, GMTK, You Ji, Lagun, Geminis, Goratu, Groth, Becker Tools,
Van Hoorn, Sara Tools, Sartorius, Airturbine Tools, 5th Axis Tools,
Dorian Tools, LMC Workholding, Kitagawa, MITUTOYO, online shop.

More