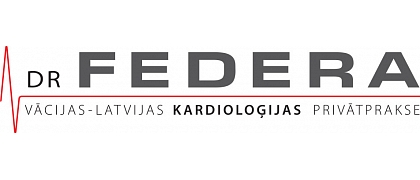 Dr. Federa German-Latvian Cardiology Private Practice
Sun

-

Mon

900-1800

Tue

900-1800

Wed

900-1800

Thu

900-1800

Fri

900-1800

Sat

-
40203215002

LV40203215002

Jūrmala, Ozolu iela 8A, LV-2008

2020

1
"Dr. Federal German-Latvian Cardiology Private Practice" you will definitely receive modern, highly qualified diagnostics and treatment according to Western standards! We are consulted by a cardiologist, arrhythmologist, cardiac surgeon, vascular surgeon and nutritionist. "Your hearts are in our hearts!"
More
We have available specialists:
cardiologist
arrhythmologist
vascular surgeon
cardiac surgeon (heart surgeon)
internists
nutrition specialist
More
Examinations to be performed with us:
echocardiography( heart ultrasound examination) with the most modern Philips equipment
cycle ergometry or exercise test
electrocardiography( ECG)
24 and 72 hour Holter monitoring( 24 h ECG)
24-hour blood pressure monitoring
bioimpedance examination
We also offer home visits, during which both echocardiography and electrocardiogram can be performed!
In cooperation with physiotherapists, we offer "heart sports individual lessons" .
More
Cardiologist, arrhythmologist, heart surgeon, vascular surgeon, nutrition specialist, cardiologist advice, echocardiography, electrocardiogram, veloergometry, Holter monitoring, blood pressure monitoring, bioimpedance examination.
More