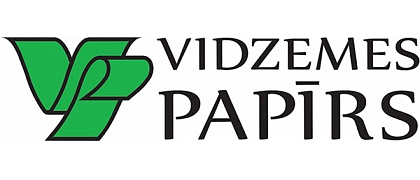 VIDZEMES PAPĪRS, LTD
Sun

-

Mon

830-1830

Tue

830-1830

Wed

830-1830

Thu

830-1830

Fri

830-1830

Sat

900-1500
EUR 746952 / 2021
22
Distributor, Service provider
44103007893

LV44103007893

24.10.1994

Rīgas iela 38, Valmiera, Valmieras nov., LV-4201

2022
LTD "Vidzemes papīrs" deals with paper, its products, stationery, forms, stamps, hygiene products, professional chemicals, household goods( garbage bags, paper baskets, washing and cleaning products, napkins, toilet paper, etc), office chairs and furniture, computer goods, household appliances( table lamps, radios, coffee machines, kettles, toasters, etc), disposable dishes, food items( coffee, tea, mineral water, cookies, chocolate) and sales of other goods necessary for the operation of offices and schools in the store at Rīgas street 38, Valmiera and Lielā Ezera street 1 in Alūksne.
More
Office paper
Paper goods
School supplies
Stationery
Workplace accessories
Office equipment and supplies
Document archiving and storage
Document lamination
Computer supplies and accessories
Goods for children
Gift wrapping
Book cover making
Photo goods
Charms and souvenirs
Packaging materials
Stickers and their production
Candles
Calendars
More
Stationery in Valmiera, stationery for school, stationery for office, T shirt printing, T shirt printing in Valmiera, T shirt printing in Vidzeme, fabric printing, work clothes printing, pen printing, souvenir printing, stickers printed, plotted, office equipment and supplies, batteries, chargers, stuffing materials, covers, spirals, document shredders, riveters, rivets, laminators, lamination films, marking, paper cutters. Computer supplies and accessories, memory cards, CD-R, CD-RW, computer mouse pads, computer mouse, cD covers, DVD+/-R, DVD+/-RW, binders, document pockets, document shelves, document folders, folders, plane-tables, photo goods, photo albums, photo frames, photo frames, table coverings, flooring surfaces, engravings, engraving, graver, engraving in Valmiera, engrave, engrave the awards cups, engrave medals, gravel the mugs, engrave pens, pen engraving, pens in Valmiera, engrave pencils, pens with print, pencils with print, engrave glass awards, cartrige for cash registers, ink cartridges, CANON, Epson, HP, stamp production, stamps, stamps in Valmiera, manufacture of stamps in Aluksne, stamps in Aluksne, stationery goods in Aluksne, calendars 2020. year, stamp inks, special stamp inks, markers stamps, pocket stamps, stamp pencil, toners, Samsung, filling, flags, Latvian flag, correctors, chairs, chair, bureau chair, office furniture, schoolchildren's chair, chair for office, copying, printing, paper, paper goods, office paper, envelopes, design paper, fax paper, printer paper, photo paper, packing boxes, calendars, calendars 2020. year, planners, cash register tapes, blanks, games, games for kids, acrylic paints, oil colors, canvas, ceramic colors, colors for face, paints for glass, colors for silk, textile colors, temperatures colours, pencils for artists, watches, clock, desk accessories, writing materials, cleaning products, dishes, household goods, hygiene products, school supplies, school goods, goods for school in Valmiera, pencil boxes, good pencil bags, quality penals, backpacks, backpacks in Valmiera, good backpacks, quality childrens backpacks, bags for computers, computer bags, portfolios, design, print, printing, print on, advertising services, advertisement in Vidzeme, advertising firm, advertising design, souvenir printing, visual advertising production, laser engraving, large-scale printing. Stationery delivery in Vidzeme. Stationery, stationery goods in Aluksne, stationery in Valmiera, office supplies in Vidzeme, office supplies. Cartridges, toners, toner refilling, discs CD, DVD, USB Flash, USB memory, business cards, document pockets, folders, binders, covers, document chests, folders with elastic band. Pens, pencils, coloured pencils, watercolours, gouache colours, felt-point pens, correctors, markers, markers CD, glue, adhesive tapes, puncher, stapler, wallets, calculators, stickers, check tapes, notebooks, exercise-books, bags, padded envelopes, registers, whiteboards, paper for blackboards, table lamps, document binding, binding of documents in Valmiera, cover printing. Document wrapping. Hot lamination, color copying, hardback binding of theses, stitching, scissors, pins, clips, outdoor advertisement. Advertising souvenirs, advertising souvenirs in Valmiera, gifts. Sticker production, stickers for vehicles, stickers for shop windows, stickers - opening hours, informative labels, plate making, home plates, street plates, informative plates, cabinet plates, information boards, laser engraving, laser engraving in Valmiera, identifiers, informative outdoor plates, informative indoor plates, cup printing, medal printing, engraved cups, engraved medals, engraved pencils, engraved pens, company logo design, logo creation, engraving in glass, engraved glasses, engraved cups, organic glass engraving, plexiglass cutting, awards, engraving in wood, plywood engraving, plywood cutting, wooden medals, souvenirs, wood decors, date stamps, ink for textile, business cards, company business cards, gift cards, diplomas, invitations. Paper from Vidzeme, Vidzeme paper Valmiera, Vidzeme paper in Aluksne. Smiltene, Valka, Valmiera, Cesis, Aluksne, Limbazi. Stickers plotted, flomaster stamps, T shirts, guest books, cords for binding documents, notarial thread for binding documents, block, notepad, notepads, booklet making, brochure holders, price tags, marking guns, keyboards, pallet for cutting, computer wipes, compressed air, planners, teacher's diaries, document dividers, document stands, archive boxes, gift paper, gift boxes, gift ribbons, gift bags, greeting cards, coin albums, table organizers, European flag, banner printing, banner making, crepe paper, laser labels, printer paper, tubular, case of drawings, safety signs, hobby supplies. Fabric printing, work clothes printing, pen printing, souvenir printing, engraving in glass, engraving in organic glass, engraving in wood, engraving in plywood, engraving in leather.
More