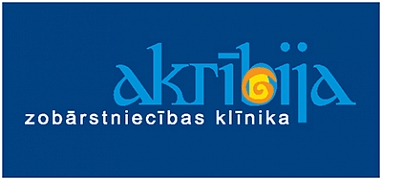 Zobārstniecības klīnika Akrībija, Ltd.
28 in october 2020, 10:20

❝Kvalitatīvi sniegti pakalpojumi❞
Add a rating and review
Sun

-

Mon

800-2000

Tue

800-2000

Wed

800-2000

Thu

800-2000

Fri

800-1700

Sat

-

By appointment
40003672400

LV40003672400

"Swedbank"

LV91HABA0551006893333

29.03.2004

29.03.2004
Dental clinics "Meticulous" the main objective
Our main goal and task is to provide patients with high-quality dental services. Several of the clinic's doctors have also gained experience at British universities, and are still regularly updating their theoretical knowledge and practical skills in various courses and seminars. When coming to the clinic, the patient can be sure that the latest methods will be used in the treatment process. Everything in the clinic is created for the needs of patients. We have a professional team of dentists who develop an individual treatment plan for each patient so that it is the most optimal for you.
More
Dentist, dentists. Dentistry for children and adults. Dental treatment, surgery, prosthetics, hygiene, whitening, orthodontics, x-ray. Teeth root canal treatment. Accept patients by appointment. Dentist in the center of Riga. Tooth extraction. Dental filling. Endodontics. Children dentist, adult dentist, dentist for the whole family.
More