Viksna architects office fulfills dreams about a tiny house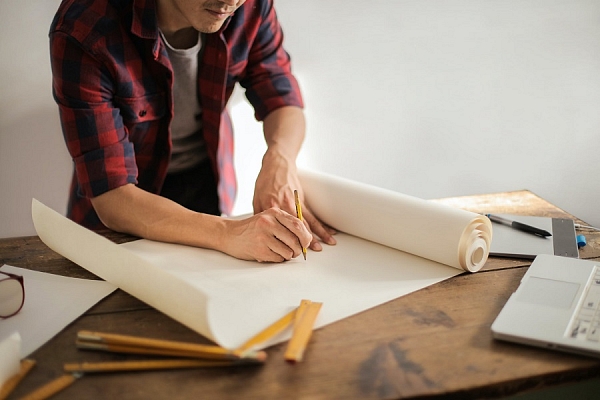 It seems as if the world has become obsessed with tiny houses. You may spend uncountable hours on Youtube checking the most interesting and innovative solutions of small houses' projects. Many enterprises have come up with their mini house modules – they can be transferred, set and the owner can move into the house after just a few hours. Viksna architects office is one of the most experienced offices in Latvia as it has been operating within the field for more than 30 years. As it can be seen when reviewing offices' projects, a 100 m2 house is still being called a Mini module.

However, according to the latest architectural trends with size mini we actually understand a much smaller residential square footage. It is a house with a width of about 3,5–5 m and length of up to 15 m. Up till 12,3 it is basically a truck with a low platform. If you want to travel with this house on the highway, its height cannot exceed 4,5 m – voila, and that becomes a house on wheels! After all, when driving under bridges and through tunnels there is a certain limitation of length and height.

Mini house may be a summer get-away or guest house as well as a residence for all seasons. It may be with wheels or without – depending on whether the owner is there to stay or wants to travel the world. When it comes to mobile mini houses, it surely tells a lot about what a modern man finds valuable and important.

New philosophy
Tiny house living has become a somewhat peculiar world perception model and a lifestyle. The owner of this type of house leaves the consumer culture which always pushes to buy more and more, returning back to the simple values and understanding that happiness does not require that much after all.

As the space is limited, it becomes easy to neglect all that insanity of consumption. All it takes is simply to explain: "There is not enough room in the house!" No matter how molestful may the poster poles or classified portals be, anyone will understand what a limited space means. Minimalism, slogan less is more – that is one of the tiny house owners' obvious messages to the world.

In ancient Egypt people did not dream about far travels abroad and they did not save money for this reason. The rich ones built ambitious tombs – that was fulfillment of all the dreams and a proof of status. But an interest to visit at least a nearby village and find out how others live and get to know new cultures – for a long time that did not seem to be relevant. Instead of that, there were dreams about grandiose tombstones.

Nowadays, the grave culture is not so glorified. The modern man wants to see the world. And that is what the savings are set aside for. Not very often we could stumble across someone nowadays that could understand the ancient Egyptian dream of working on your tombstone all your lifetime. Instead of that, we save money to travel, see other places and beautiful landscapes.

The emergence of mini houses and its growing popularity is natural as it makes the modern dream of traveling much more realistic. It means not being tied to one place. If you have a mini house, not only will it be possible for you to feel at home at any place on the planet, but also to be at home indeed. Besides, also the new professions that have emerged because of the internet, make this lifestyle also financially possible.

It is surprising how much, under the influence of the age, can dreams, ambitions and what a human-being considers valuable and how a successful life is measured, change!

Tiny house – a surprise
The small house itself, if designed by professionals, not only is an economical but also aesthetically high-quality architectural solution. This house among others seems like a little surprise that demonstrates that it is possible to live differently, and life may also be beautiful and good in another way!

There are various ready-made projects in the market. Although it is not a bad option, the architects' office can give a special atmosphere and adapt the project to the individual needs of each client even though it may seem such a comparatively small project. The teamwork of the architects office will turn it into a unique house – and no one else will have one alike. In an already made project it may always be possible to find flaws or solutions that do not coincide with the clients vision of how the house should look like.

When it comes to small houses, planning is especially important. This makes one look for suitable interior design solutions so that the living area may not become too narrow. As a result, there are many additional sections in the cupboards and shelves, the sofas are liftable, and in search for extra space one has to become very creative. Because of that, there is no way to go without the help of an interior designer.

Less and greener
Not only the tiny houses have touched the hearts with their tiny-size, but also with more nature-friendly solutions that very often come along. More ecological building materials are used and owners go for renewable energy. It is possible to set sun batteries or collectors, thus generating electricity and heating water with the help of solar energy. Heat can be provided by heat pumps.

Work at architects office
As with any larger or smaller team, the architects office has its own rules and every member has a significant role to play in the overall work. There are landscape architects, interior designers, design managers, structural engineers and project managers. Sometimes it means several professions in one person. Like screws in a complex mechanism, everyone has a certain function to make it all work together.

In general, it takes away a huge responsibility from the client. Besides, not only those are practical matters that the architects office solve, but also the piles of paperwork and obtaining various permits. Thus the client can stop worrying about the obstacles or mistakes during the construction, because a professional will follow up. It is very risky to assume this complex task on your own – on a long term, it often pays back in losses.

For a house that's size is up to 25 m2 in comparison to bigger ones it is easier to get a permit. It surely is one of those additional bonuses of miniature residences.

Either it is a mini-mini house or a bit more spacious one, an architects office always helps to find the most functional, aesthetically appealing and economical solutions. Unprofessional solutions can increase the overall space up to 7%, but each square meter on average costs about 1000 EUR. For fans of tiny houses, a desire to expand unnecessarily surely would not be typical. However, with a professional architect office's team, it is possible to achieve a much more successful final result.

A big house and a car – this story has been replaced by happily ever after in a mini house. To live your fairytale, open gvbirojs.lv, find out more and get in touch with a professional team of architects!
Комментарии