Construction Reverts to the Level of 2003–2004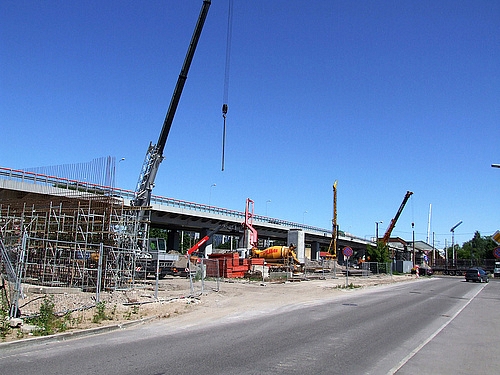 Photo: Pilseta24.lv
The construction industry, in brief:
volume of construction projects in 2010 was by 57% less than in 2008;
net turnover of construction companies for 2010 is predicted as: 1,56 billion EUR;
36,600 thousand employees (2010), 60% less than in 2007;
nearly half of companies were stricken from the register of construction entrepreneurs at the end of 2010;
the largest construction company is LLC Skonto Būve (turnover 111,4 million EUR, 2009);
the largest manufacturer of building materials: LLC Knauf (turnover 37,1 million EUR, 2009);
the largest road-building company: JSC A.C.B. (turnover 49,4 million EUR, 2009).
The construction industry in Latvia has experienced a very rapid decline over the past two years. Although it has been said that there are signs of stabilization in the construction market, statistical data speaks against this.
There was the most rapid growth in the industry from 2000 until 2008. The main economic indicators peaked in 2008, with construction comprising 8,9% of GDP. In 2009 when the economic crisis gained strength, the volume of construction decreased by 35,3%. In 2010, a decline was still observed. It is forecast that net turnover in the industry for 2010 will not exceed 1,56 billion EUR, reaching only
34% of the volume for 2008. A substantial increase in volumes in 2010 was only observed in the area of construction of schools, universities and scientific and research buildings, which rose by 9,3%.
The construction industry has experienced a rapid decrease in the number of orders, in particular, from the private sector. Various projects that were already under way were frozen because of insufficient funds. The new residential building sector was hit hardest. In 2010 the construction industry has managed to stay steady thanks to state and municipal orders – infrastructure and environmental projects, which are mostly financed by EU funds, and for the construction or renovation of various kinds of public buildings.
Analysts do not forecast a dynamic recovery of the industry to the level of previous ten years in the near future, the optimistic forecasts are mostly of market stabilization.
In the 1st half of 2011 as compared to the 1st half of 2010 construction volume at constant prices droped by 6.2%, of which construction of buildings has decreased by 3.4% and volume of civil engineering construction – by 8.5%.
Comparing to June of the previous year, the overall level of construction costs in June 2011 rose by 2.6%. Maintenance and operational costs of machinery and equipment increased by 12.0%, but the price level of building materials grew by 1.7%. In its turn, labour remuneration of workers during this time period diminished by 5.5%. During the year the overall level of construction costs was mostly influenced by the cost growth in the construction of transport facilities and underground main pipelines.
 
Changes in the Structure of the Industry
During last two years the number of construction companies was reduced by half – 4300 companies were stricken from the Register of Construction Entrepreneurs by the end of 2010.
The number of persons employed in construction has decreased drastically – from 91,700 in 2007 to 36,600 in 2010.
Despite the high unemployment rate, there are shortages of qualified specialists. The shortage of skilled construction workers is mainly related to the emigration of high-level professionals to other EU member-states.
Construction is often involved in the so-called "gray economy", where certain taxes on wages and social fees are evaded.
Persons employed in branch
| | | |
| --- | --- | --- |
| 2008 | 2009 | 2010 |
| 89 431 | 54 554 | 46 008 |
Source: CSB
Activities in Foreign Markets
Reduced order volume in the local market forced construction companies to seek work outside Latvia more actively: in 2009 the amount of foreign orders was doubled from 2008, reaching
49,4 million EUR. A rapid increase in export is forecast also in 2010 – the total volume of work done abroad could reach 57 million EUR.
The largest manufacturers of building materials in Latvia are also emphasizing exports. Total turnover of the largest manufacturers for 2010 is estimated as exceeding 620 million EUR in 2010 (an increase of 160 million EUR). About 80% of building material production is exported. Main export markets are Lithuania, Estonia, the Nordic countries, Poland, Russia, and Belarus.
Road Construction Industry

The last two years were not successful also for the road construction industry. Total turnover in 2009 of the members of Latvian Road Construction Association Latvijas ceļu būvētājs, representing leading road construction companies, has decreased by half. In 2009 the largest road construction companies were
JSC A.C.B. with turnover 49,4 million EUR and LLC Binders with turnover 45,7 million EUR.

Construction Economic Indicators

*Forecast**"Latvijas būvniecība" (#6 2010.)Source: Central Statistical Bureau of Latvia

TOP 5 largest construction companies in Latvia according to net turnover
| | | | | | | |
| --- | --- | --- | --- | --- | --- | --- |
| No | Company | Turnover, million EUR, 2009 | Turnover, million EUR, 2008 | Turnover changes 2009 vs 2088, % | Profit 2009, million EUR | Employees 2009 |
| 1. | Skonto būve LLC | 111,4 | 87,51 | 27% | 6,15 | 126 |
| 2. | BMGS JSC | 83,58 | 63,40 | 32% | 5,19 | 495 |
| 3. | Merks LLC | 56,64 | 57,10 | -1% | 6,48 | 131 |
| 4. |  Re&Re LLC | 56,53 | 69,64 | -19% | 8,72 | 123 |
| 5. | UPB JSC* | 46,24 | nd | nd | Nd | nd |
* DB TOP 500 data, UPB holding construction business turnoverSource: the database of ''firmas.lv''

Useful links

 
Comments