The financial industry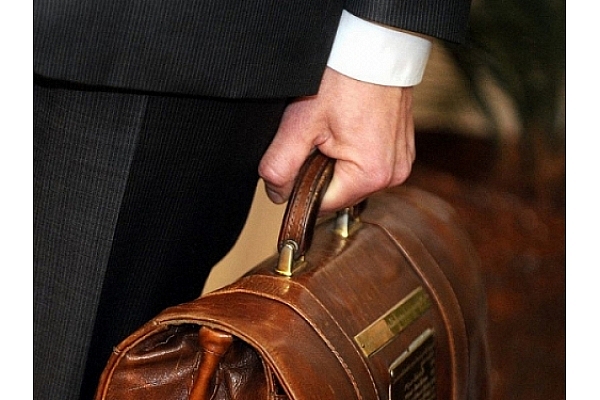 Photo: LETA
Financial services in brief:
21 licensed commercial banks and branches of 10 foreign banks are operating in Latvia;
non-residents deposits at  Latvian banks amount to 6,6 billion EUR (41,6% of total bank deposits);
by the end of 2010, on average 26,6% of loans were delinquent;
non-life insurance makes up 83% and life insurance – 17% of the insurance industry.
The financial services sector in Latvia suffered most gravely from the crisis: losses of the banking sector for two years have "eaten away" profits for the previous five years. The number of bad loans has increased, including outstanding loan liabilities.
As compared with the period of the economic boom in 2006–2008, when loans were easily granted, banks have turned very cautious. Banks have also become significant players in the real estate market, a numerous properties of debtors have been acquired by bank subsidiaries.
Banking Sector
Commercial banks are the largest players in the financial services market in Latvia; all, except for Parex Bank, have the right to take deposits. The Latvian government has, since November 2008, invested around 1,4 billion EUR in a bail-out of Parex Bank, the only bank so far needing government help. As a result of the crisis, there were outflows of deposits from other banks as well. Although the total assets of all banks have decreased to the level of 2007, they are still by 38% larger at the end of 2006. Total gross assets of the banks as of December 31, 2010 were 31,26 billion EUR.
Scandinavian banks are strongly represented on the Latvian market, holding 49% of the total paid authorized capital of the banks. Local capital owns 35% with the rest held by banks from EU member-states and CIS countries. Foreign-owned banks in Latvia provide universal services to clients of any income level, while the locally owned banks specialize mostly in rendering services to high-income clients. CIS banks use Latvia as a bridge for carrying out activities in EU.
Non-residents have deposited 6,6 billion EUR in Latvian banks (41,6% into total bank deposits). Deposits from foreign companies – EUR 5,4 billion EUR are larger than the deposits of local companies (2,4 billion EUR). Deposits by of citizens of Russia and CIS states have historically been large.
As a proportion of Latvian GDP, the loan portfolio has increased from 37% (2002) to 118% (2009). Most of the inflows of about 10–11 billion EUR into the Latvian economy came from Nordic Banks.
Housing loans to private persons (including real-estate speculators), amounted to 32% of lending volume, and of loans to enterprises, 16% were granted for real estate transactions. By the end of 2010 on average 26,6% loans were delinquent, and the delinquency rate for real estate loans was 34,3%.
In 2009 new lending was practically stopped, while banks engaged in loan restructuring. Banks created reserves against bad loans, which had a negative affect on their financial results – with six or seven banks reporting any profit. In 2009 and 2010 the banking industry has recorded losses equal to 1,61 billion EUR, exceeding the total profits (1,43 billion EUR), which banks have earned since 2004. However, other indicators relating to the stability of the financial system exceeded required norms – capital sufficiency by the end of 2010 was 14,9% (the norm is 8%), liquidity was 67,9% (the norm is 30%).
The Insurance Sector
Over a period of 10 years the insurance market has grown several times. In 2000 the amount of paid non-life insurance premiums was 125 million EUR, the largest amount was reached in 2008 – 432 million EUR, and in 2010 the market has decreased to 224 million EUR . The amount of life insurance premiums paid for 2010 was 46.7 million EUR (+17,9% from 2009).
The largest non-life insurance company in Latvia is BTA, which is owned by local entrepreneurs. The life insurance leader is
SEB Dzīvības Apdrošināšana with Swedish ownership. There are
a total of five non-life and one life insurance company owned by Latvian investor, four foreign non-life insurance and two foreign life insurance company branches. German and Scandinavian capital is represented in the insurance industry.
TOP5 banks according to amount of assets, on 31st December, 2010*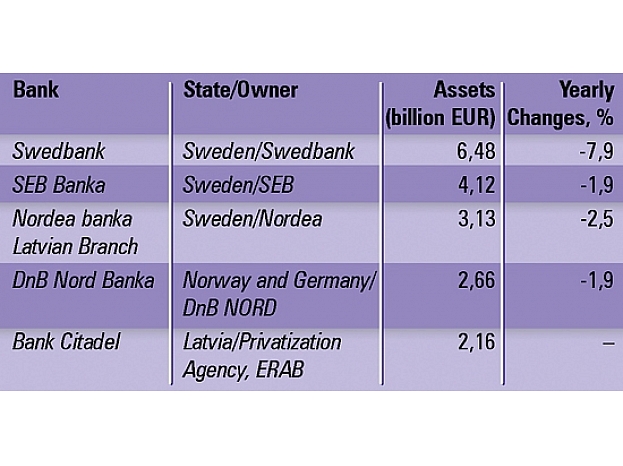 * unconsolidated, unaudited figures
Source: Association of Latvian Commercial Banks of Latvia, statements of banks

TOP5 largest banks by deposits, on 31st December, 2010*
| | | | | | |
| --- | --- | --- | --- | --- | --- |
| Bank | State/Owner | Deposits (bn, EUR) | Yearly changes, % | Deposits on 31.12.2008. (bn,EUR) | on 31.12.2007.(mljrd.EUR) |
| Swedbank | Sweden/Swedbank | 2.36 | +13.2 | 2.23 | 2.45 |
| Aizkraukle | Latvia/Ernests Bernis, Oļegs Fiļs | 1.80 | +45.9 | 1.01 | 1.17 |
| Citadele | Latvia/Privatizācijas aģentūra, ERAB | 1.64 | - | - | - |
| SEB | Sweden/SEB | 1.50 | -6.0 | 1.76 | 1.96 |
| Rietumu banka | Malta, Latvija./Boswell (International) Consulting Limited, Leonīds Esterkins, Arkādijs Suharenko | 1.37 | +28.8 | 0.95 | 1.27 |
* unconsolidated, unaudited figures
Source: Association of Latvian Commercial Banks of Latvia, statements of banks

TOP 5 largest banks (by assets) profit/losses (mil. EUR)*
| | | | | | |
| --- | --- | --- | --- | --- | --- |
| Place | Bank | 2010.** | 2009. | 2008. | 2007. |
| 1. | Swedbank | -66.61 | -430.07 | 84.07 | 142.7 |
| 2 |  SEB Banka | 8.20 | -183.4 | 42.57 | 109.82 |
| 3. | Nordea bankas  Latvijas filiāle | -17.2 | -54.9 | 23.9 | 25.04 |
| 4. | DnB Nord Banka | -44.54 | -123.9 | 7.15 | 27.28 |
| 5. | Banka Citadele/Parex banka*** | -9.5/-146.6 | -180.7 | -186.4 | 58.9 |
* consolidate data **unaudited data
*** Citadeles banka has been operating since August 1, 2010, data for 9 months, 2010.
Source: Association of Latvian Commercial Banks of Latvia, statements of banks


Banking industry figures

Bank assets, bn EUR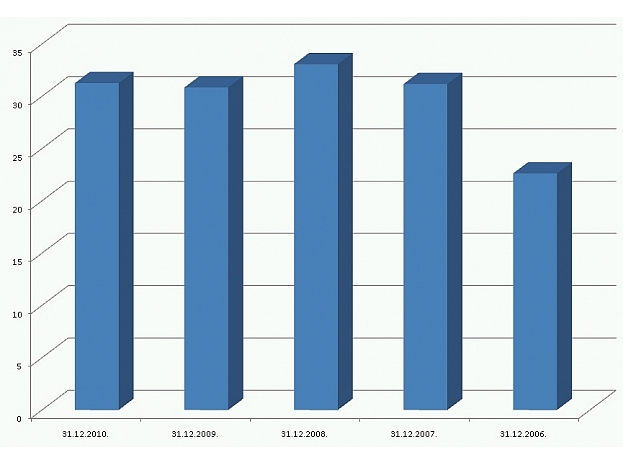 Source: Financial and Capital Market Commission

Bank loans (bn, EUR)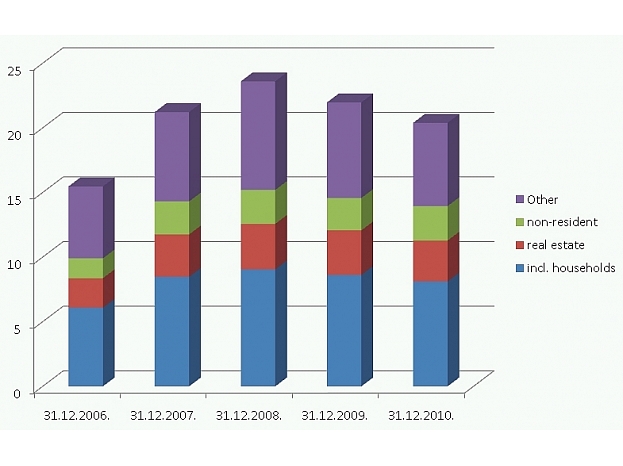 Source: Financial and Capital Market Commission

Bank deposits (bn, EUR)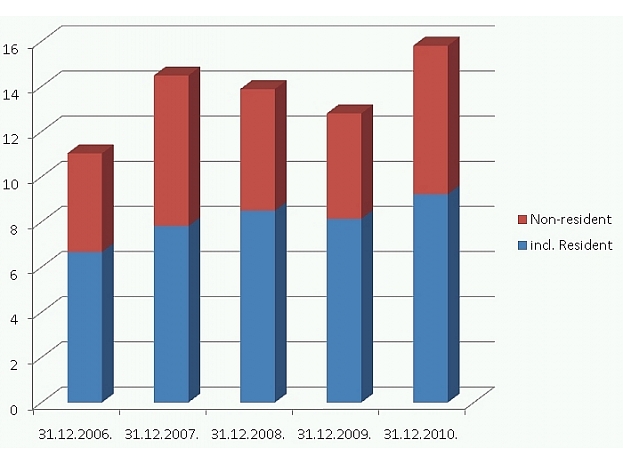 Source: Financial and Capital Market Commission

TOP 5 largest insurance companies (according to written gross premiums)*
| | | | | | |
| --- | --- | --- | --- | --- | --- |
| Company | State/owner | Premiums (mil. EUR) | Yearly changes,% | Premiums 2008. | 2007. |
| BTA | Latvija/Gints Dandzbergs, Pauls Dandzbergs | 49.5 | -12 | 104.0 | 92.5 |
| Gjensidige Baltic | Norvēģija/Gjensidige Forsikring | 38.8 | -25 | 65.3 | 53.4 |
| Balta | Dānija/Codan | 33.9 | -31 | 86.8 | 77.1 |
| SEB Dzīvības apdrošināšana | Zviedrija/ SEB Trygg Liv Holding AB | 19.4 | +21 | 21.6 | 31.7 |
| If P&C Insurance Latvijas filiāle | Somija/Sampo Group | 16.6 | -21 | 35.9 | 32.3 |
*9 months, 2010
Source: Latvian Association of Insurers

Useful links
Comments