Agriculture shows rapid development of export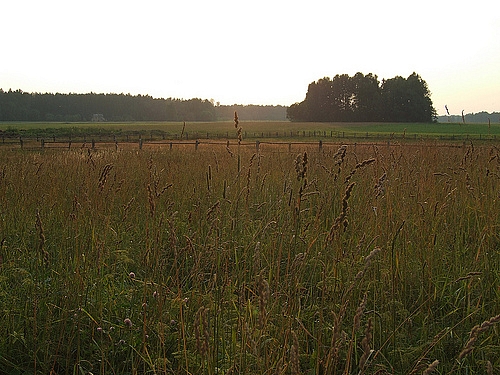 Photo: Pilseta24.lv
About agriculture, in brief:
the owners of the major agricultural enterprises are mainly local businessmen, with the exception of pig-breeding, where Danish capital assets are concentrated;
in 2010, the branch export has amounted to 1,16 bilion EUR;
in 2010, the income from food export have formed almost one fifth from all export of products and services.
The agriculture branch in Latvia develops in a rapid manner – the amount of export is growing, and the amounts of manufactured products have not decreased, even despite the global crisis.
The admission of Latvia to the European Union in May 2004, when the funding from the EU has begun to flow in the agriculture branch, has been a significant turning point for the branch. In 2003, the subsidies in agriculture have amounted to 15,7 millions EUR, and the income from agricultural activities has amounted to 136,6 millions EUR; after five years, the subsidies have already amounted to 246 millions EUR, while the unsubsidized income has amounted only to 74 millions EUR. The amount of income from agricultural activities without subsidies still decreases – in 2008, it has amounted to 23%, in 2009 – to 10% less.
Latvian farmers receive the lowest area payments in the member states of the European Union. The Ministry of Agriculture tries to obtain better conditions after 2013.
During the last five years, an upward tendency can be observed in the export of agriculture and food products – from 590 millions EUR in 2006 to 1 billion EUR in 2008. Although, under the influence of the crisis, the export in 2009 has decreased by 10,5%, statistics indicate that its amount has exceeded the amount of 2007 by 16%. In 2010, the level of 2009 has been exceeded by 39%.
The branch has reached the highest amount of export in 2010, when its value has increased to EUR 1,16bn and the branch export has come forward among the main product groups as the second important one, giving way only to timber export. The growth was facilitated by the demand on external markets. In 2010, it has been the income from food, agriculture and fisheries export, which has formed 17,6 % from the export of all products and services.
Lithuania, Russia and Estonia are the top three states of export, and Lithuania, Poland, Germany are the top three states of import. The main export products are crops and flour products, drinks, juices.
In the first 6 months of 2011 export of food and agricultural products was per 17% or per 82.5 million euro higher than in the 1st half of 2010, thus food and agricultural products sector are now the 3rd amongst the most important export sectors in Latvia. Export of these products in the first 2 quarters of 2011 comprised 14% of overall export value in Latvia during this period of time. The most important food and agricultural products which export value in the 1st half of 2011 increased were alcoholic and non-alcoholic beverages: increase per 29.2 million euro or 28% as compared to the export value in the same period of time in 2010. The second largest increase in the 1st half of 2011 was in milk and milk products export - 22.9 million euro or per 36% more, as well as fish and shellfishes export with an increase per 10 million euro or per 30%.
The cooperative societies of grain producers have experienced considerable growth during the last five years, increasing their turnover and export amounts: from 65 millions EUR in 2006 to 221 million EUR in 2009.
From 2006 till 2009, the export of drinks and juices has also doubled – from 120 millions EUR to 206 millions EUR.
Canned fish – once the main group of export products to Russia, has lost competition to the export of whole milk to Lithuania. During the last four years, whole milk has taken the leading position in the structure of export products.
The important turning-point in pig-breeding has been the beginning of the export of living pigs to Russia. The amounts of this export rise every year, and during the first three quarters of 2010, an amount of 8,7 millions EUR has already been reached.
In 2008 and 2009, dairy-farming has been influenced by a heavy crisis, when, due to weak worldwide demand, purchase prices on milk have significantly decreased, which caused problems for Latvian farmers as well. Support for the restructuring of Latvian dairy branch has also been assigned by the European Commission. The fishery branch, in its turn, has been stricken by the so-called sprat scandal, when Russia has banned the realization of the products of several Latvian enterprises, due to increased concentration of benzopyrene. This problem has only been resolved after two years.
In 2010 the fastest price increase in crop production
Central Statistical Bureau data show than in 2010 the producer price index in agriculture compared with 2009 increased by 19.0%. The fastest growth in producer prices is expected in crop production: production prices in 2010 compared to 2009 have increased by 23.6%, while livestock production has become more expensive by 14.4%. In 2010, compared to last year, prices increased for all crop products: grain prices by 44.8%, rape - by 29.3%, vegetables - by 38.9%, fruits and berries - 17.7%, potatoes - by 10.2%.
There has been a significant increase in the average grain purchase price - from 73.25 LVL/t in 2009 to 106.06 LVL/t in 2010, or 44.8%, including wheat - from 79.75 LVL to 110.21 LVL, or about 38.2%, rye - from 56.02 LVL to 79.72 LVL or 42.3%, barley - from 61.95 LVL to 92.86 LVL or by 49.9%.
Livestock product prices were affected by the rising of dairy, beef, sheep and goat meat prices by 37.6%, 2.1% and 27.0%. Decrease of pork, poultry and egg prices was respectively 6.6%, 10.7% and 9.8%.
Main agricultural product producer prices (LVL per 1 ton)
 

2009

2010

2010 % against 2009

Wheat

79.75

110.21

138.2

Rye

56.02

79.72

142.3

Barley

61.95

92.86

149.9

Rape

168.91

218.41

129.3

Potatoes

94.87

104.50

110.2

Vegetables

246.23

341.98

138.9

Meat (carcass weight):

 

 

 

 

beef

1057.58

1080.14

102.1

 

pork

1050.06

980.94

93.4

 

Sheep, goat

1571.00

1995.12

127.0

 

poultry

1229.48

1098.01

89.3

Milk

129.23

177.82

137.6

Eggs, LVL per 100 pieces

4.79

4.32

90.2
Source: CSB
Potential is seen in the branch
During the economical recession, no significant decrease has been observed in the agricultural sector. In 2009, an increase in the amount of 1,8% (in comparison with 2008) has been observed in dairy-cattle breeding; in return, a small decrease in the amount of 1,5%, which has been related to changes in prices, has been observed in crop farming. This indicates that the agricultural sector becomes more and more competitive. Besides, the sector shows reduction in expenses, which before the crisis have exceeded the average expenses of the European Union.
In 2010, farmers have actively submitted projects for Agriculture Modernization Event, within the framework of which, the procurement of new equipment is envisaged by 1300 projects, while the construction of new farms, warehouses or other objects-in 500 cases.
Upon evaluating the market of raw materials and the export market, the branch has good perspectives. Even now, the situation in agriculture indicates that in 2010, farmers will most likely achieve the increase of income in comparison with the previous year. Higher prices on milk, grain and colza in 2010 hold out a hope of an increase in these markets, for an approximate of one third. Although the situation at the worldwide food market is not stable, experts envisage homegrown food value increase.
Limitations, which are imposed on foreigners during the purchasing of agricultural and forest lands, will be canceled after 1 May 2014. This might grant green light for the flow of investments.
The export of the products of agriculture, fisheries, as well as food products (in millions EUR)
TOP 5 largest agricultural companies in Latvia according to net turnover
| | | | | | | | |
| --- | --- | --- | --- | --- | --- | --- | --- |
| No. | Company | Sphere | Turnover, mil. EUR, 2009 | Turnover, mil. EUR, 2008 | Turnover changes 2009 vs 2088, % | Profit 2009, mil. EUR | Employees 2009 |
| 1. | Agrofirma Tērvete AS | Cattle breeding,crop farming, beer breewing | 8,30 | 10,99 | -24% | 1,21 | 254 |
| 2. | Jēkabpils labība AS | Pig-breeding | 7,46 | 7,57 | -1% | 0.07 | 154 |
| 3. | Sabiedrība Mārupe SIA | Vegetable growing, cattle breeding | 7,03 | 9,34 | -25% | 0.93 | 89 |
| 4. | Uzvara – lauks SIA | Crop farming and technical crops | 5,04 | 8,05 | -37% | 0.005 | 106 |
| 5. | Ulbroka SIA | Pig-breeding | 5,02 | 5,36 | -6% | 0.51 | 48 |
Source: the database of "firmas.lv"

Useful links

 
Comments