Retail trade turnover in Latvia rises 1.9%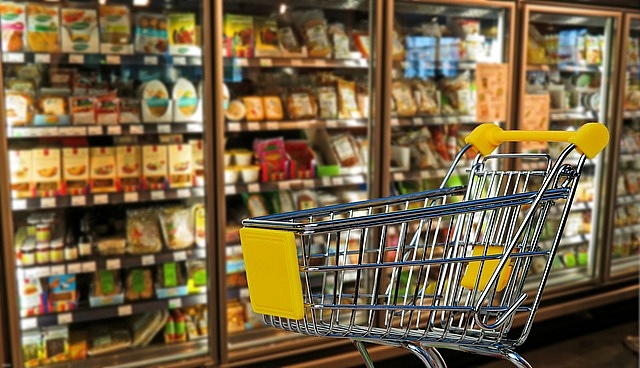 •
Companies selling food and beverages make up 50% of the trade industry (1,382 companies with total turnover of EUR 5.21 billion), followed by companies selling household goods, DIY and home improvement companies – 22% (725 companies, turnover of EUR 2.27 billion), companies selling office supplies – 10% (413 companies, turnover of EUR 1.06 billion), clothing and footwear retailers – 5% (394 companies, turnover of EUR 523 million), online stores – 4.8% (267 companies, turnover of EUR 364 million).
•
3,708 companies have annual turnover of more than EUR 145,000, the aggregate profit is EUR 203 million, and the total number of employees 80,000.
•
In 2015, retail trade turnover increased approximately 5% from 2014 thanks to residents' increasing purchasing power and expansion and upgrades of retail chains. Growth remained at 5% to 6% in 2016 also.
Improvement by 1.9%
Total retail trade turnover in Latvia in 2016 rose 1.9 percent compared to 2015, according to calendar adjusted data (at constant prices), the Central Statistical Bureau said in January. Turnover of retail trade in food products declined 1 percent, while turnover of retail trade in non-food products increased 3.7%. The most significant turnover growth in the non-food product group year on year was recorded in retail sale via mail order or via Internet (37.3%), retail sale of information and communication equipment (11%), retail sale of clothing, footwear and leather goods (10.5%), retail sale of electrical household appliances (8.7%), retail sale of cultural and recreation goods (8%), as well as retail sale of pharmaceutical and medical goods (6.1%). In turn, a drop in turnover was recorded in retail sale at non-specialized stores with non-food products predominating (7.8%), retail sale via stalls and markets (7.2%), as well as retail sale of cosmetic and toiletry articles (6.5%).
Thanks to robust growth in sale of non-food products, except retail trade in fuel (which rose 4.7% in 2016), the Finance Ministry expects retail trade turnover to increase even more in 2017 than it did in 2016. This will be fostered by stronger economic growth, higher wages and more active lending than in 2016.
Competition getting tougher
For several years already, strong competition in retail trade has been prompting small and medium-sized retailers to cooperate increasingly more closely. This, however, may be rather difficult as, on the one hand, local chain stores continue to consolidate their market positions and, on the other hand, limited growth is anticipated in the industry in 2017 due to residents' limited purchasing power and unwillingness to spend more. Labor shortages also continue to remain a serious challenge to the retail trade sector. The population is aging, and young people are not too keen to work as salespersons or warehouse workers. Regardless of what perks retailers may be offering to young employees, finding employees, or keeping current employees from leaving, may be complicated in some cases.
IKEA coming to Latvia, then to Estonia
Swedish furniture company IKEA plans on entering the Estonian market after it opens its store in Riga next year, said Sigurdur Palmason, a representative of the IKEA store's operator Paul Mason Properties. He added that there would most likely be only one IKEA store to open in Latvia, and that no other stores were being planned for Latvia. The company expects to get back most of its investment in the Latvian store, around EUR 60 million, within 18 months after the store opens. Construction of the IKEA store in Stopiņi, just outside Riga, will commence in August 2017 and continue for approximately one-and-a-half years. IKEA's only store in the Baltic countries at the moment opened in Vilnius in 2013.
Rimi Baltic building Baltic's largest logistics center for EUR 75 million
Rimi Baltic, which belongs to Swedish retail trade group ICA Gruppen, has launched construction of a EUR 75 million pan-Baltic logistics center in Riga. The company will invest EUR 75 million in construction of the new logistics center, which makes it one of the largest investment projects in Latvia over the past several years. Rimi Baltic is planning to invest EUR 64 million in the new central logistics complex and EUR 11 million in expansion of its head offices in Riga. The logistics center's total area will exceed 70,000 square meters, while Rimi head offices will be close to 10,000 square meters in area after the expansion. The project is hoped to increase the company's export potential by 64.4%. 
Ventspils Port to cooperate with Belarusian logistics group 
The Freeport of Ventspils Authority in January 2017 signed a protocol of intent with Bremino Group, the owner of several private logistics centers in Belarus. The document says the two parties will actively cooperate to create a transport corridor for a new Bremino Group logistics center that would extend to the Baltic Sea and offer further distribution opportunities in Europe. As a result, Stena Line ferries will carry Bremino Group goods to the Scandinavian market and, after the Swedish Orient Line ferry operator enters Ventspils, cargo transport will also become possible to Belgium and Great Britain. On the other hand, container cargo delivered to Belgium on transatlantic lines could then be shipped to China. Bremino Group is a Belarusian company established in 2013 to help achieve the logistics potential of Belarus. The company is in charge of implementing investment projects, development of infrastructure and logistics centers in Belarus. The company runs three logistics centers at the moment. The one the closest to Latvia is located in Orsha, approximately 760 kilometers from Ventspils.
Online store 1a.lv opens Baltic logistics center in Riga
Mobilukss Ltd., the owner of the 1a.lv online store, built a new logistics center in 2016 that serves customers in not only Latvia, but also in Lithuania and Estonia. Since November 2016, the logistics center has been working 24 hours a day to process all orders placed by customers. In December, the company processed 100,000 orders, and in 2017 it is planning to expand the range of goods it sells twofold. The new logistics center is expected to consolidate 1a.lv positions on the e-commerce market. 1a Group's total turnover in the Baltic countries amounted to EUR 45 million in 2016.
Maxima Grupe continues to expand
Maxima Grupe bought company Radas, the owner of Lithuanian online store Barbora that sells food and other products, for EUR 1.4 million in January 2017. The company, which delivers Maxima products and goods to customers in Vilnius, will be integrated in other Maxima Grupe e-commerce companies in Latvia and Estonia. The online store has developed a successful business model, loyal customer base, and customer trust. In order to consolidate the online store's market positions, expansion of the company will continue in Lithuania as well as in Latvia and Estonia, where the existing e-maxima companies will be integrated into the Barbora network. 
Novelty of the year in retail trade – contactless cards
At the end of 2016, retailers Rimi Latvia Ltd. and Maxima Latvija Ltd. began to offer contactless purchases, which make transactions much faster. The two companies said that all of their stores would offer the contactless payment option by mid-2017. According to data from the Association of Latvian Commercial Banks, a total of 16,952 contactless cards – 0.9% of all debit cards and 0.7% of all cards issued by Latvian banks – were issued in Latvia by July 1, 2016.
2017 a hopeful year for merchants
Based on data for December 2016, economic growth accelerated in Latvia in the last quarter of 2016, therefore 2017 appears to have good prospects for merchants, said DNB banka economic expert Pēteris Strautiņš. Following a steep fall at the beginning of 2016, transit of goods increased again, and excellent results were attained in the energy sector in the fourth quarter. The beginning of the fourth quarter was also quite favorable for the manufacturing industry, while retail trade turnover in November was the best for the entire 2016. Year on year, retail trade turnover in November rose 4.6%, the best monthly result since October 2015. The expert expects households' spending to continue growing in 2017 at about the same pace as last year. The increasing employment rate is another positive factor. Last year the labor market was rather inert, and the unemployment rate decreased slightly – as did Latvia's population. While wages will be growing faster this year, real wages adjusted for inflation may be lower than in 2016. On the other hand, store owners may hope that consumers will be leaving more money in stores in 2017, buying durable goods and home improvement products as a result of increasing availability of mortgage loans.
Source: Firmas.lv
Useful websites:
Comments