The tourism branch recovers from the crisis influence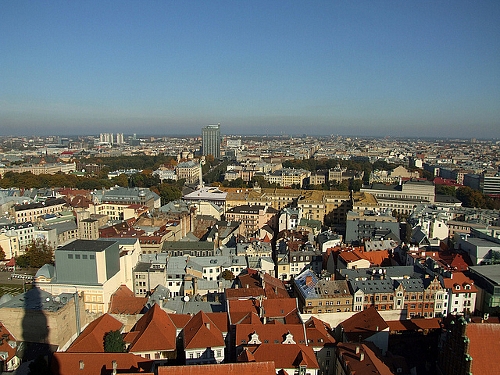 Photo: Pilseta24.lv
The tourism industry, in brief:
tourism is a government-defined priority sector;
export of tourism-related services was 517 million EUR, or approximately 3% of the GDP (2009);
628 hotels and other lodgings for tourists operate in Latvia;
1,31 million people were served the hotels and other tourist lodging in Latvia (2010);
tourists from Lithuania, Russia, Estonia, Norway, Great Britain favor Latvia;
as of 2008, 3525 restaurants, bars and cafeterias have operated in Latvia.
Accession to the European Union, several important events of global importance – Eurovision, the world hockey championship, and the NATO summit – have helped the rapid growth of the Latvian hospitality industry. Presently, the Latvian tourism industry is recovering from the effects of the global economic crisis and is striving to serve individual foreign tourists seeking recreation at a leisurely pace.
Facts about the tourism industry:
 Since 2002, the export of tourism-related services has increased (by an average of 28% during the period of 2005 to 2008).
In 2009, the products sold and the services rendered to foreign tourists in Latvia (not including international passenger transpor­tation) have amounted to 517 million EUR, or approxi­mately 3% of Gross Domestic Product.
In 2009 there was a rapid decrease in key tourism indicators.
The reason for the decline was not only the global crisis and tax changes, but also, according to experts, a reduction in the quality of services in the Latvian tourism industry.
In 2009, more than half of all travelers from abroad have come to Latvia from the so-called priority markets for tourism – from Lithuania (14%), Russia (12,4%), Sweden (10,9%), Estonia (10%), Germany (8,9%) and Finland (8,6%).
After a weak 2009, in 2010, the tourism industry has shown tendencies for positive development. Market participants noticed the first signs of life during the second half of 2009. Development is felt in the sectors of recreational and business travel. In the summer of 2010, as well as at the end of the year, more tourists are expected, especially from Russia.
The state has defined a goal for 2010 to achieve an increase in tourism as a proportion of GDP to 4% in compared to 2009.
The state plans to implement an e-service for visa applicants by July 2011. This will aid citizens from third countries in getting to Latvia and to the Schengen Area.
Hotels
During the crisis, several new hotels have been closed. Creditors – mainly banks – have taken possession of them.
 628 hotel and other lodgings for tourists were operating in Latvia (2010). 300 members of the Countryside Traveler consortium (Lauku ceļotājs) offer opportunities for rest and recreation in the Latvian countryside.
In 2010, 1,31 million tourists have been served by hotels and other lodging in Latvia, which is 17,7% more than in 2009.
Eight international hotel chains have come to Latvia.
In 2010, only one new hotel – Tallink Hotel Rīga (4 stars with 256 rooms) has been opened in Latvia.
In 2010, Latvian hotel occupancy rate in general has increased by 5.74 percentage points, according to Association of Latvian Hotels and Restaurants collected information. According to association data, in 2010 the average hotel occupancy rate in Latvia was 41.32%, but in 2009 it was 35.58%.
In its turn Latvian accommodation room occupancy in the first 6 months of 2011 was 43.99%, an increase of 8.67% comparing to the same period in 2010. Still the highest occupancy rate remains in four and five star hotel segment, but gradually can be seen an improvement in the three star hotel segment.
Air transport
Airlines are the most important source of incoming tourism in Latvia. Air travelers also significantly increased the number of transit tourists.
In 2010 foreign travelers crossed the border of Latvia 5.04 million times, which is 6.7% more than in 2009. 73% of the total number of foreign visitors have spent in Latvia less than 24 hours. Guests who spent in Latvia more than twenty-four hours, stayed here on average 3.9 nights.
In 2010 foreign visitors in our country spent 333.9 million lats, which is 3% less than in 2009.
Most foreign visitors came from neighboring countries - 34% of the total number of travelers were from Lithuania, 19% from Estonia, 7% from Sweden, 7% of Russia, 4% from Germany and 4% from Poland.
As a reason of the visit to Latvia 40% of several day foreign visitors mentioned rest, 30% - business trip and 20% as the reason for the journey mentioned visiting their friends or relatives.
In its turn Latvian residents in 2010 have crossed the border of Latvia 3.1 million times, it is about 1.0% more than in 2009. Latvian residents stayed abroad on average 4.9 nights. Also last year Latvian travelers most often visited our neighboring countries - Lithuania (29%), Russia (18%), Estonia (12%) and 7% have visited Germany. In total in 2010 Latvian travelers have spent abroad 368.2 million lats, that is 10% less than in 2009.
Riga International Airport has become the largest air traffic junction in the Baltic states (4,7 million passengers were served in 2010; +14%).
Restaurants
The fast food sector has developed rapidly in recent years. Many cake shops have been opened, and there are many so-called chains of cafeterias/restaurants.
So-called "trendy" places have conquered their own niche.
Cuisine from many countries of the world can be enjoyed in Riga.
The export of tuorism-related services, in millions EUR

Source: The Ministry of Economics, the Bank of Latvia

The largest enterprises in the tuorism sphere of Latvia, by net turnover in 2009 (in millions EUR)
| | |
| --- | --- |
| The largest tourism agency – Latvia Tours Ltd | 13 |
| The largets tourism operator – Tez Tour Ltd | 18.32 |
| The largst hotel – Viesnīca Latvija JSC (Radisson Blu Latvija ESPA Rīga) | 12.3 |
Source: DB TOP 500
 
 

2004

2005

2006

2007

2008

2009

2010

Non-resident traveller number of border crossingsmillion.

3,03

3,77

4,65

5,24

5,5

4,7

5,0

Non-resident traveller in LatviaEUR

201,9

270,3

378,8

480,9

573,7

489,6

475,1

Non-resident traveller length of stay, days

1,7

1,5

1,5

1,4

1,4

1,3

3,9

One non-resident traveller average expenditure

38

47

55

67

73

 80

77

Resident traveller number of border crossings, million.

2,46

2,89

3,11

3,38

3,5

3,1

3,1  

Resident traveller

281,0

458,2

575,7

689,8

832,5

581,1

523,9

Resident traveller average length of trip, days

2,9

3,2

3,8

3,8

4,0

4,7

4,9

One resident traveller average expenditure

38

50

48

53

60

41

34

services balance (difference between resident traveller expendituresnon-resident traveller expendituresin Latvia)

-79,1

-187,8

-196,9

-208,9

 -258,8

-91,5

-48,8

served in hotels and other accommodation establishments, millions.

0.9

1.15

1.33

1.49

1.56

1.11

1.31  
Source:



Useful links

 
Comments